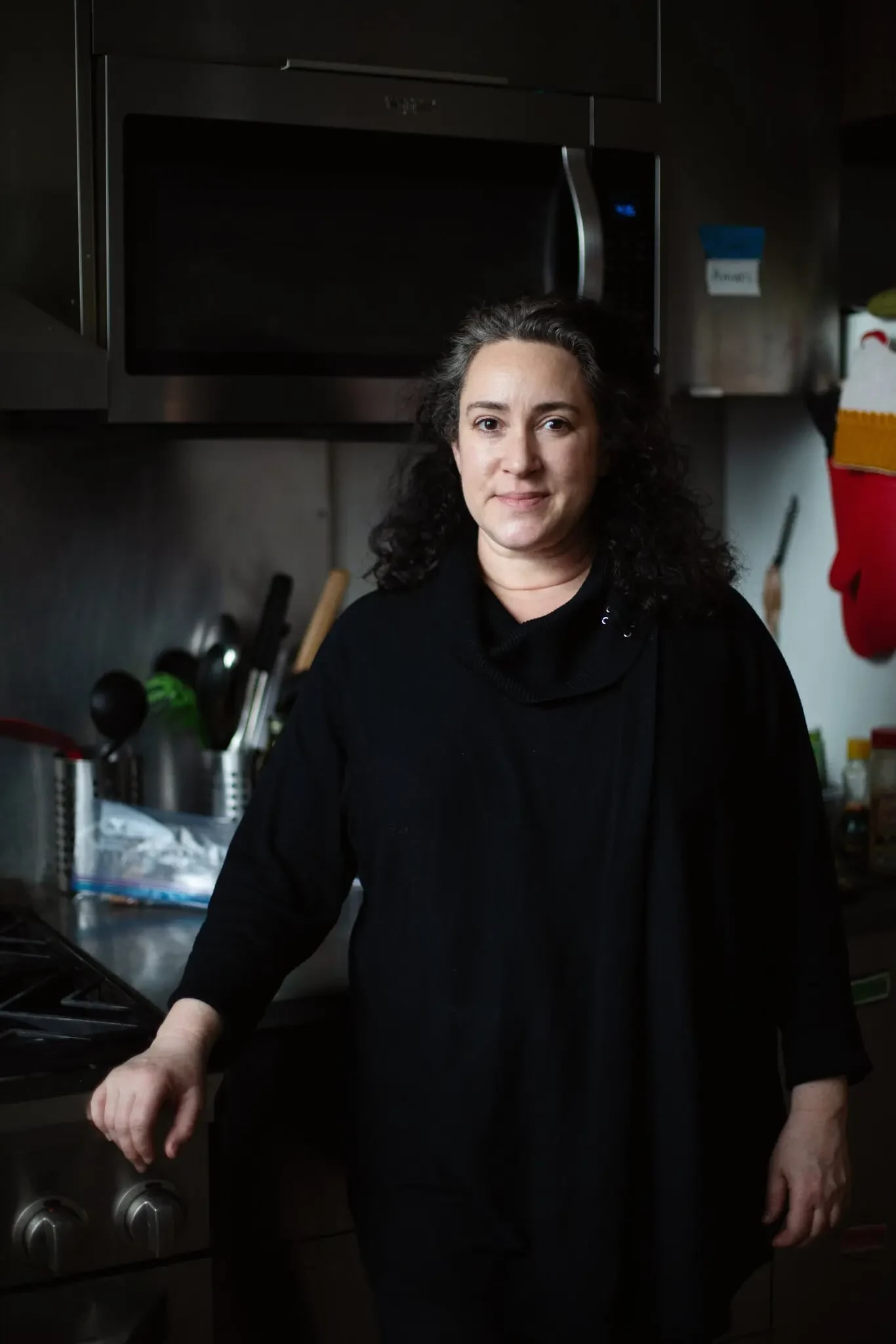 Wendy Kaplan, the director of Trinity Place Shelter, on Manhattan's Upper West Side. She described her job as "the opposite of a 9 to 5," but "these are my people," she said of the residents. "This is my heart."Credit...Rengim Mutevellioglu for The New York Times
Wendy Kaplan is the director of
Trinity Place Shelter
, which houses up to 10 young people at any given time — most of them transgender men and women of color — and steers them toward permanent housing, as well as professional or educational goals they set for themselves. The shelter, an independent nonprofit, was originally a pilot project of
Trinity Lutheran Church of Manhattan
, and still occupies its basement on the Upper West Side. It lets residents stay up to a year and half and welcomes individuals over the age of 21, a typical age cutoff for many youth shelters.
A social worker, Ms. Kaplan described her job as "the opposite of a 9 to 5" since the shelter's hours of operation are at night and she does at least some work seven days a week. Not that she's complaining. "These are my people," she said of the residents. "This is my heart.
Ms. Kaplan, 51, and Taso Manis, 57, a former chef, are co-parenting their daughter, Micah, 7, with whom they both live, in Prospect Heights, Brooklyn.
FAMILY TIME
Now that Micah is in school, I think of Sunday as my day with her. I'm the one more active and outside with her. Taso has health complications and takes medication that makes him feel unwell most days, so he does a lot of the parenting at home.
DEMOGRAPHICS
I've lived in our rent-stabilized apartment since the 1990s. I originally moved here thinking Brooklyn was where lesbians hang out. Now the neighborhood is kid central. I live across the street from a toddler park. We are right next to the Brooklyn Museum and Prospect Park.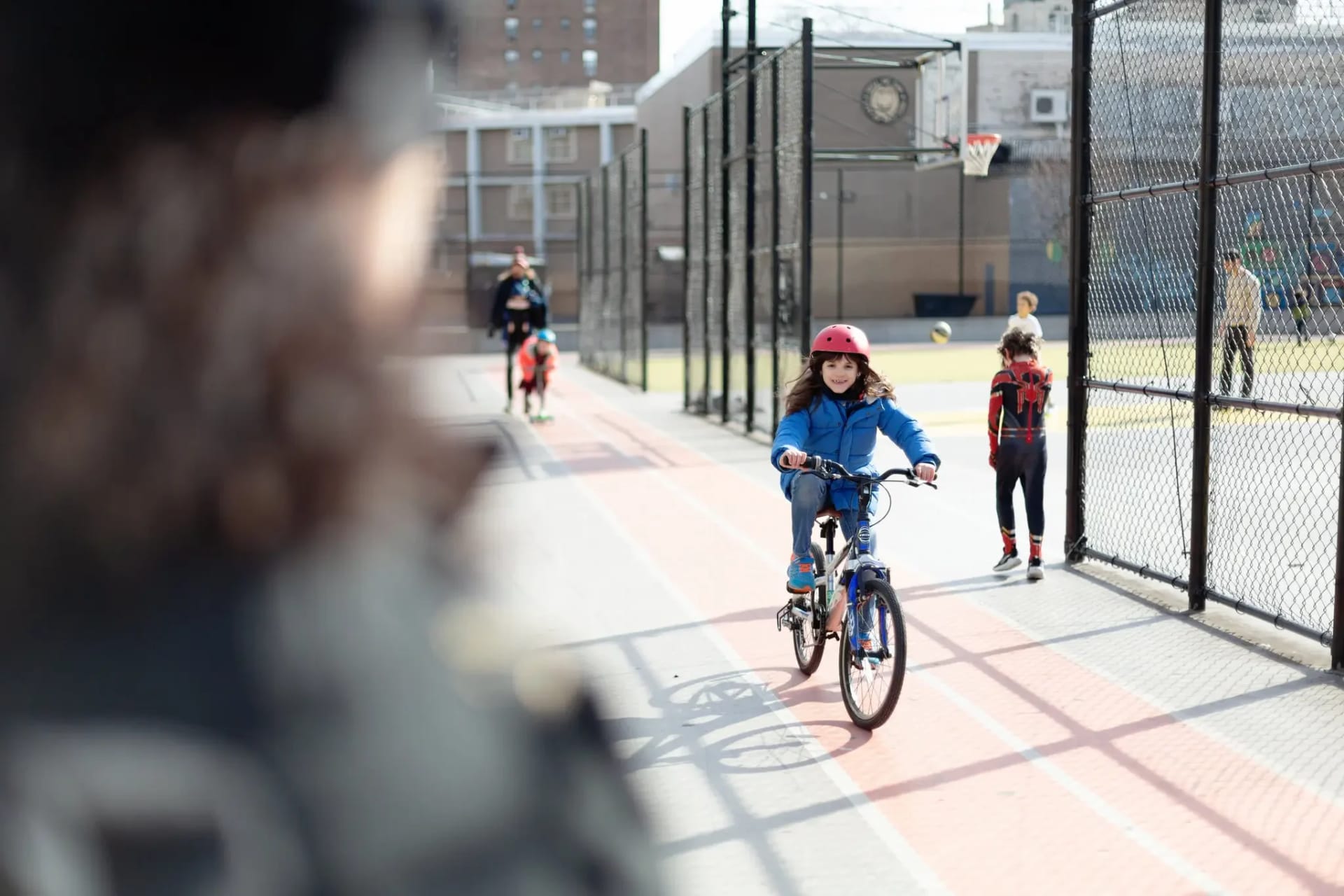 Ms. Kaplan's daughter, Micah, takes her new bike for a spin at Stroud Playground.
Credit...
Rengim Mutevellioglu for The New York Times

THE CIRCUIT
We just got Micah a bike and she's so excited to go out with it. We've been going to this
park called Stroud
two and a half blocks away. There's a track she can bike around while I walk. This is my exercise, too.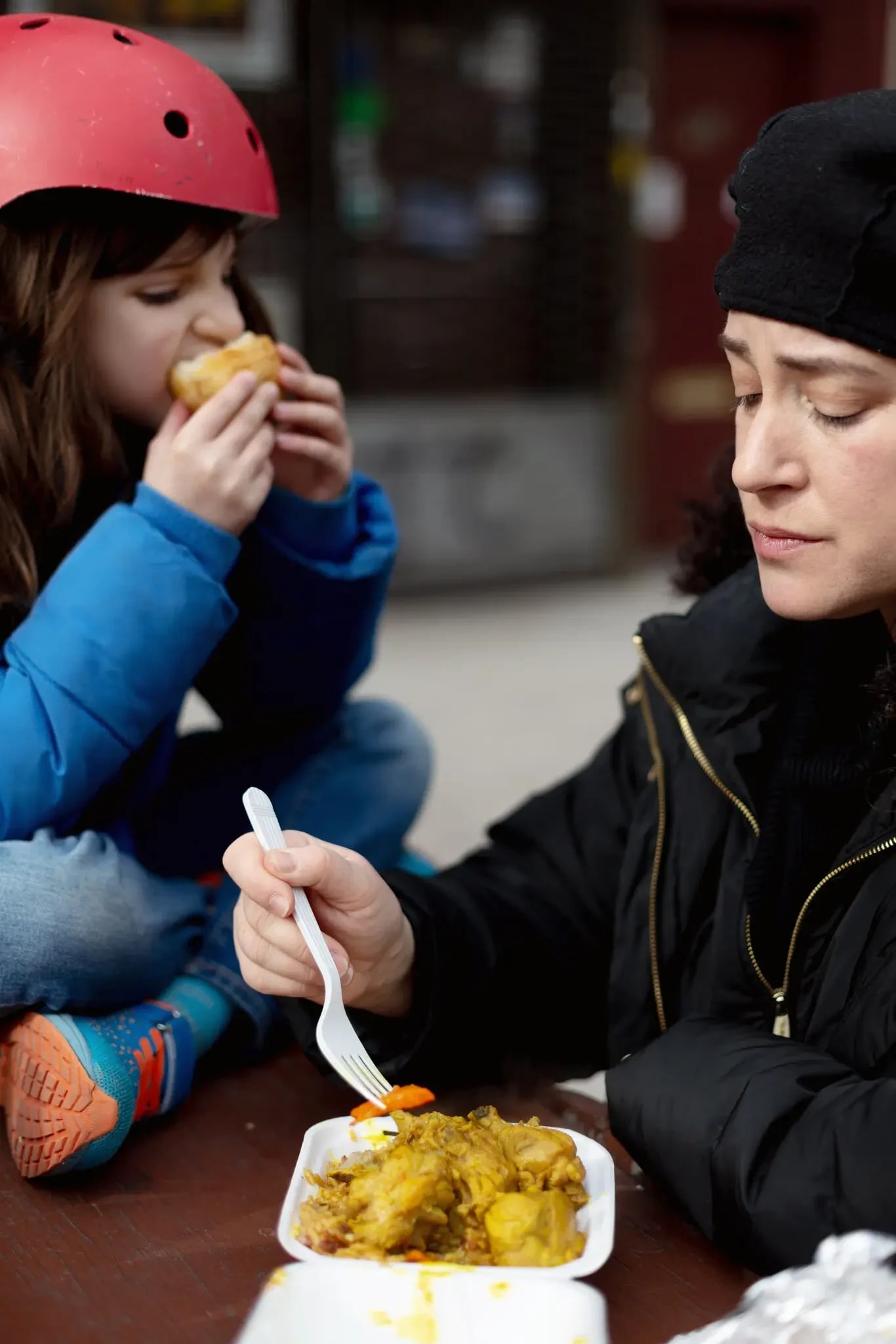 "Micah loves Caribbean patties," said Ms. Kaplan. "She always gets the curry chicken."Credit...Rengim Mutevellioglu for The New York Times
PATTIES, DADDY Sometimes on the way back, we'll stop at one of the little Caribbean takeout places near us. Micah loves Caribbean patties — she always gets the curry chicken. Or we come home and Taso makes what we call "daddy noodles," which is basically any kind of noodle in chicken broth.

FUN WITH BOXES When we have people over, they have to walk through the bedroom to get to the living room to get to the kitchen. It's very New York. We are lucky it is big. Right now it is filled with boxes. We got Micah loads of presents but what she really likes is the boxes, which she decorates for her stuffed animals.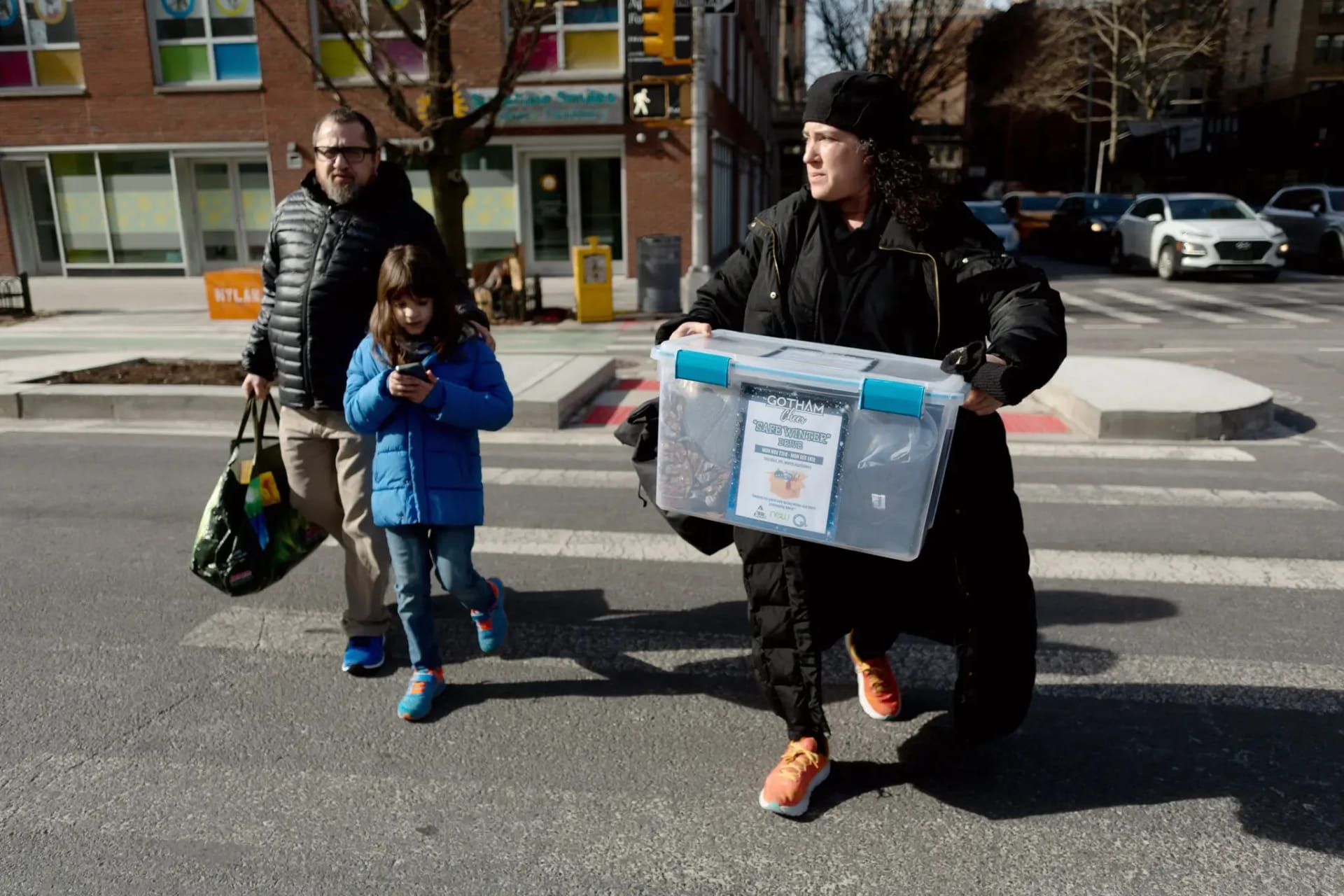 From left, Taso Manis, Micah and Ms. Kaplan on their way to the shelter. Credit...Rengim Mutevellioglu for The New York Times
SHELTER In the afternoon we often go to the shelter. Micah has been coming with me since she was little. One resident taught her yoga. It's also where she learned about video games.

GROCERY RUN We have a car so we drive in, and sometimes I do a Costco run on the way. I get all the basics: chicken, eggs, hamburgers, pasta, granola bars. People can make requests, too. I try to buy residents what they ask for; it's a way of making them feel seen.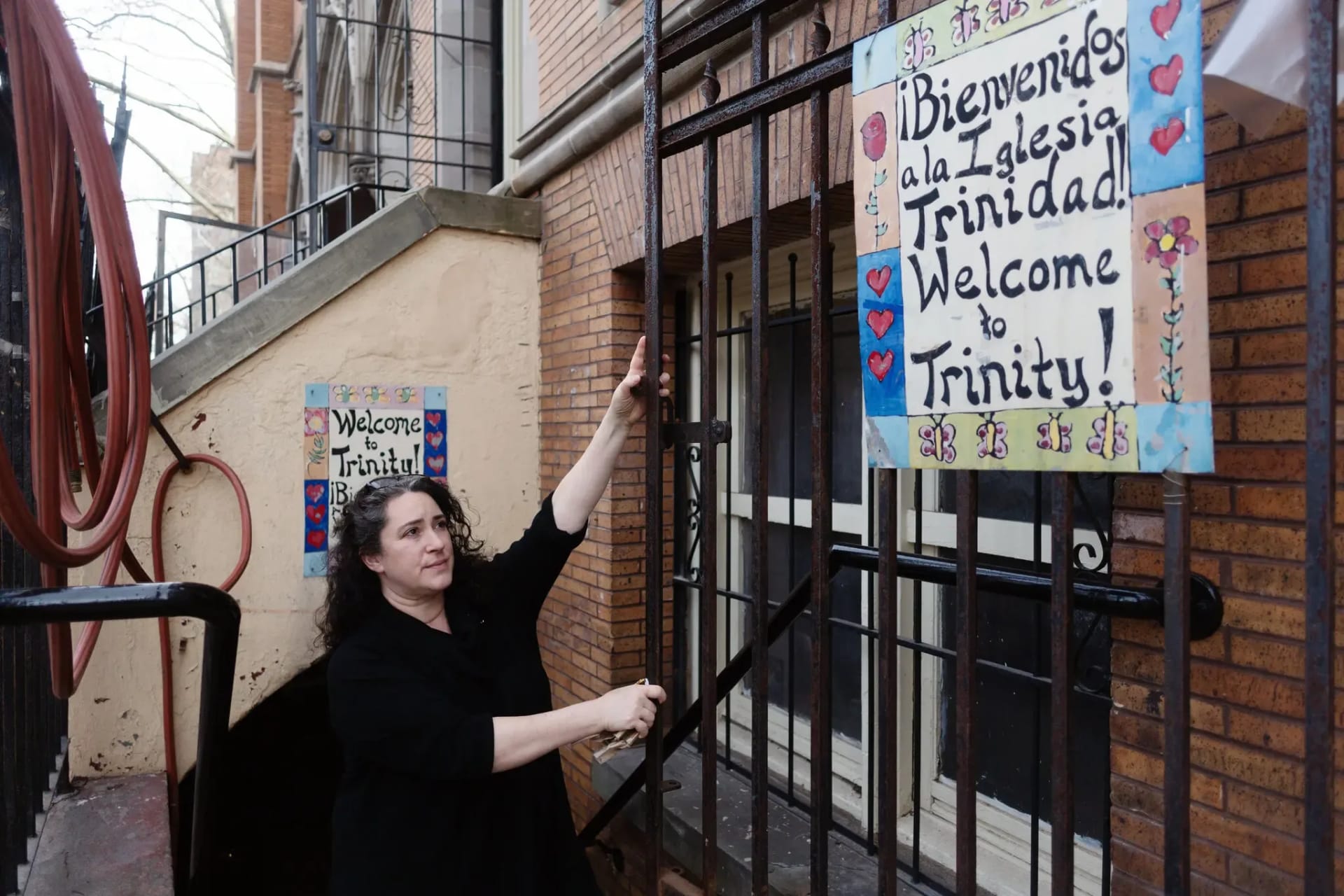 Ms. Kaplan and her family stay at the shelter for about three hours on Sundays, when volunteer groups sometimes arrive to help out or lead activities.Credit...Rengim Mutevellioglu for The New York Times
SHARING KITCHEN SKILLS The residents cook for themselves. Some of them don't know how to cook when they arrive, so I am buying cup of noodles and easy, fast things they can make. Others were the cooks in their families and they impart their skills or just share what they cook. It's always touching to see that.

ACTIVITIES Sometimes volunteer groups come on Sundays to do painting, organize donations or help in the kitchen. I'm giving people a tour and Micah gets time on the computer. I plop her at a table in the middle of the room.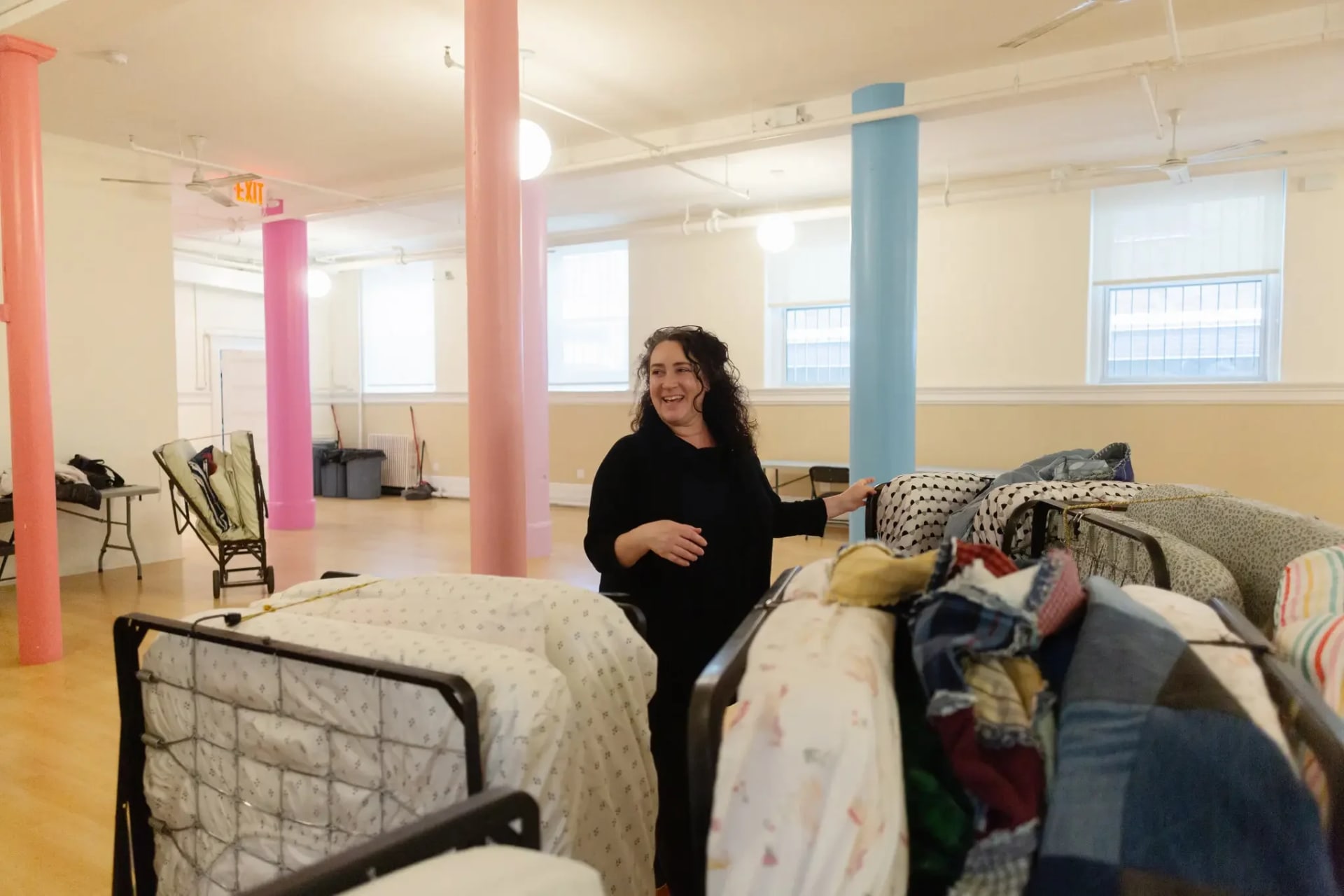 "The shelter opens at 7 p.m. and residents come in and set up their cots where they want them," Ms. Kaplan said. "We have dividers they can use to carve out psychological space."Credit...Rengim Mutevellioglu for The New York Times

DINNER TREATS We stay about three hours — it's the perfect amount of time. Micah's always excited to have her dinner there. That's where she discovered ramen and sugar cereal. We don't have Frosted Flakes at home. For her, it's a treat.

BEDTIME RUSH Then it's a race to get home, get sorted and settled for the next day of school. Micah usually falls asleep in the car. By the time I get her up the stairs — we're on the 4th floor of a walk-up — it's at least 7:30 p.m. and I'm feeling that stress of trying to get her in bed before 9 p.m.

SILLY, FUN TIME In bed, we read a book. The Dog Man series is the favorite. The cartoons are so creative and fun, and they make her laugh. And it's helped her learn to read. She gets so engaged that she tries out words. There's a lot of "Eek! Ack!" It's a silly, fun time with a lot of giggling.

ON CALL A social worker stays overnight at the shelter. Sometimes we check in. Normally we would have a supervisor doing that, but I've been having trouble hiring someone. So I sleep with my phone on and next to me. If there's an emergency — which is rare — I need to be 100 percent available, and I am.