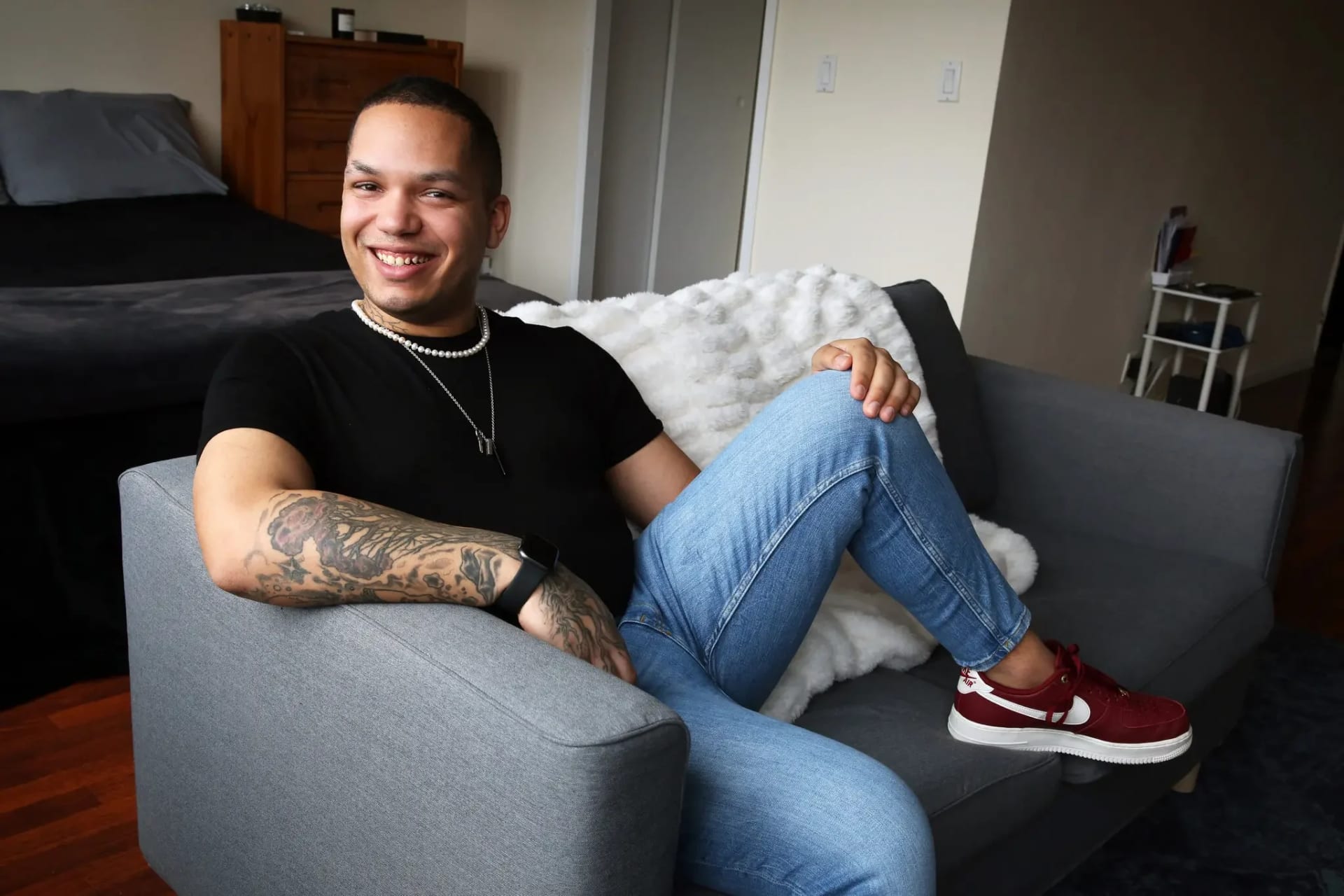 Brandon Wells lived in homeless shelters in Los Angeles and New York before a housing navigator with Queens Defenders found him a studio in Forest Hills. "The sense of security in this building," he said, "feeling safe where I live, is really what sold me on it. It has a level of security I've never had."Credit...Andrea Mohin/The New York Times
Brandon Wells grew up in Oshkosh, Wis., dreaming of conquering big cities and streetwear fashion. He sketched designer jeans and hooded sweatshirts in his free time, all the while plotting his exit. "I knew I was leaving as soon as I graduated from high school," he said.

He applied to the Fashion Institute of Design and Merchandising in Los Angeles and was offered a scholarship, which made school financially possible but also added pressure. "I felt like I had to really show my worth," he recalled.

He did just that, sharpening his skills and aesthetics, and after four years he earned a degree in design engineering. He was ready for the start of a career, but it was the spring of 2020, so he was stalled by a global pandemic.

His family helped him with spending money, and he was enrolled in CalFresh, a state-run program that helped pay for his food, but he didn't have nearly enough money for an apartment or a car. "I couldn't get a job," he said. "No one was hiring because of Covid. So, after I graduated, I was living in a shelter near the Staples Center. It was either that or live on the streets."

Mr. Wells didn't feel like going home was an option because, though he still had the support of his family, some relationships in Oshkosh suffered when he opened up about being gay.

"There were people there who weren't a big fan of me after I came out," he said. "It's a small town, and I was shut out of a lot of places."

While in the shelter, he got a job in a flower shop, first making deliveries then arrangements. But that business didn't survive the pandemic.

Mr. Wells managed to pick up other gigs — he delivered for Olive Garden, worked retail at Macy's — and he was saving a little bit of money, but after nearly two years in the shelter, he could feel all the momentum from graduation slipping away.

"I was exhausted," he said. "I knew I wasn't getting anywhere in L.A., and I finally admitted that to myself."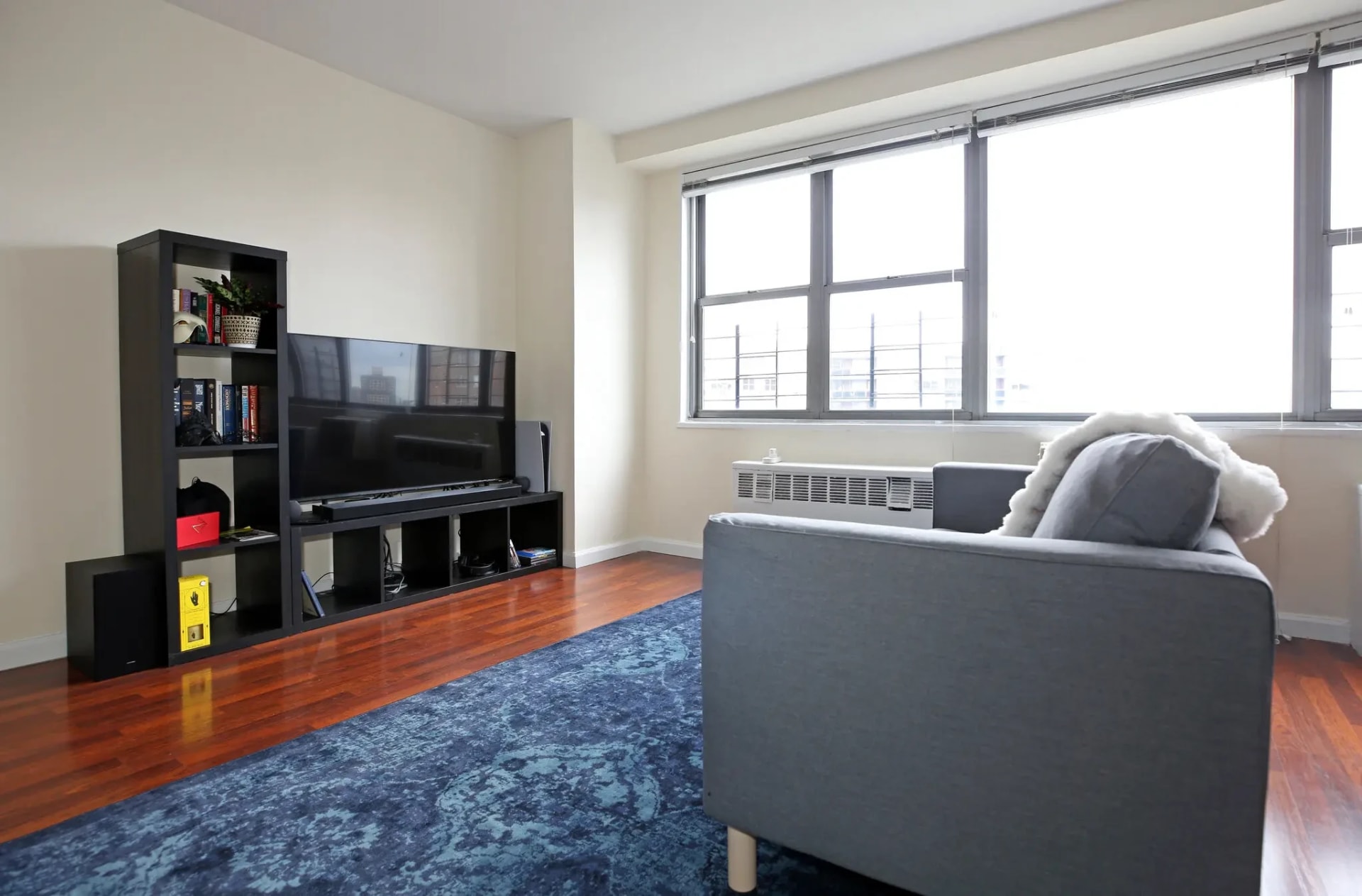 Mr. Wells' apartment is on the 20th floor of his building, which gives him plenty of natural light and views of the city below.Credit...Andrea Mohin/The New York Times
So, on Dec. 27, 2021, he bought a one-way train ticket from Los Angeles to New York. He had never been on a train before — or to New York. He departed Union Station on New Year's Eve and rode into the desert.

"It was crazy being in the middle of nowhere," he said, "being able to see stars and miles of emptiness in every direction under the moon."

On Jan. 3, 2022, he arrived at Penn Station and booked four nights at the Night hotel on Broadway and 94th Street. "I had four nights and five days to get my life in order and to know where I was going," he said. "I spent those days going all over Manhattan, trying to learn about L.G.B.T.Q. resources, NYCHA" — the New York City Housing Authority — "any resource I could find."

Mr. Wells ended up living on the streets for a week and a half. "I slept a couple of nights outside Bryant Park," he recalled. "Then I found out the subways run 24/7 and it was warm down there, so I started sleeping on the trains. It was January and I didn't have any real winter jacket, just jeans and a couple of hoodies."

He didn't know anyone in the city, and he was protecting his family back home from his circumstances. "I didn't want my parents to worry," he said, "so I told them I moved to New York and found a place to live. I wanted to make sure they thought I was doing OK. And I didn't want to keep living off of them at the age of 24. I wanted to figure it out on my own."

After a week and a half, he landed a spot in a youth shelter in Astoria. That helped for a few months, but then he aged out in July when he turned 25. Luckily a bed opened up for him at Trinity Place, a L.G.B.T.Q. shelter on the Upper West Side with more flexibility on its aging out policy.

The move proved consequential.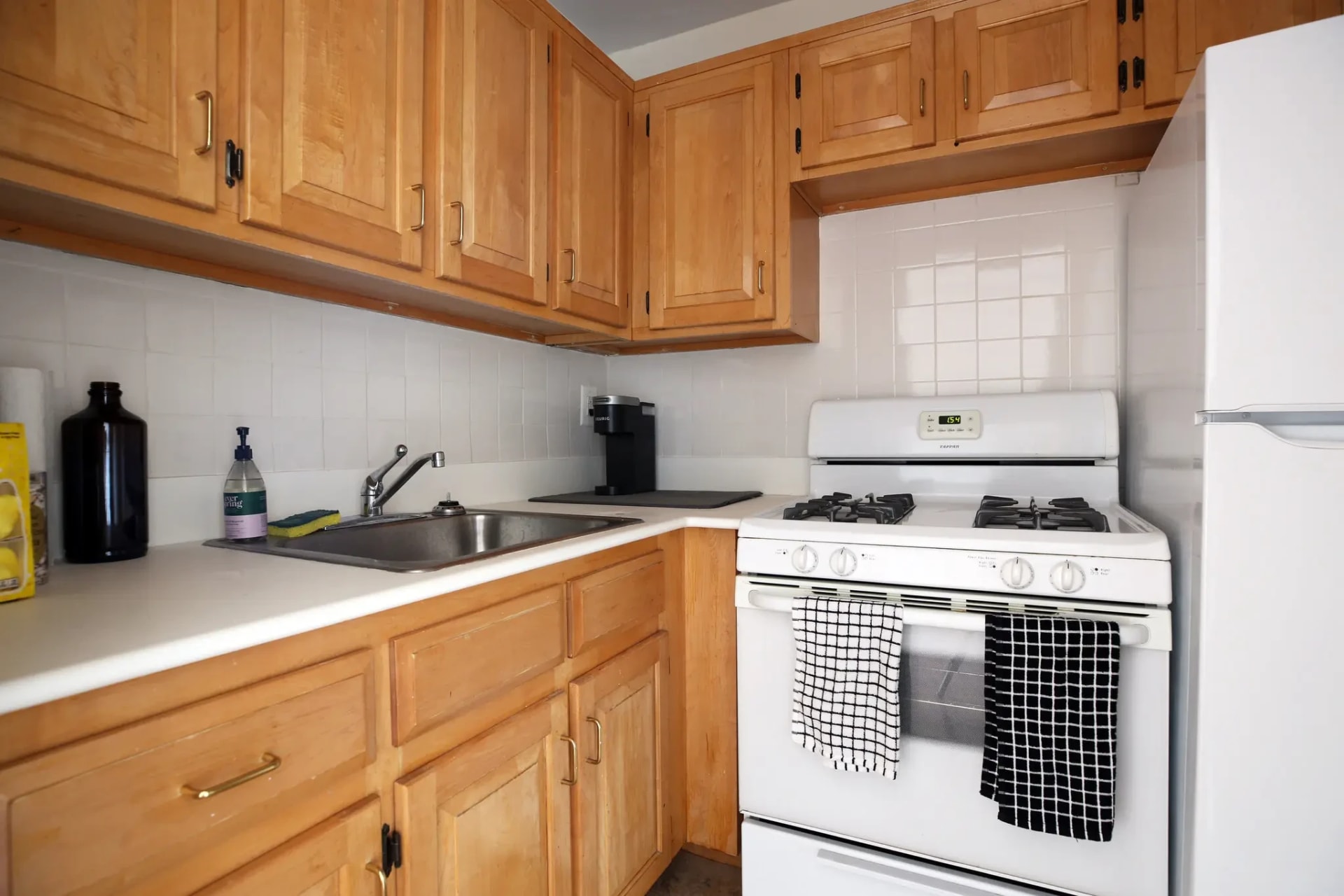 When he first saw the apartment, Mr. Wells wasn't fazed by the small kitchen because he anticipated that any apartment he could afford would come with a tight space in which to cook.Credit...Andrea Mohin/The New York Times
$2,785 | FOREST HILLS, QUEENS
Brandon Wells, 25

Occupation: Sample room assistant, Vera Wang

On working at Vera Wang: "This is my first job in fashion," he said. "I knew it was going to be fast-paced, but I didn't know it could be this stressful. It's been a roller-coaster but, so far, I've loved it." His duties include buying fabrics, handling correspondence, and tracking garments through the production process. One recent highlight:helping the actress and singer Vanessa Hudgens get into a dress for the CFDA Awards, presented by the Council of Fashion Designers of America.

On connecting with neighbors: Mr. Wells has been pleasantly surprised by how nice his neighbors have been. "I had heard everyone in New York was mean," he said, "but everyone I bump into in the elevator or laundry room is nice." He likes that there are lots of families in the building. "Every morning a row of school buses pull up and there are tons of kids, all lined up."

At Trinity, he met Wendy Kaplan, the director of the shelter, and after learning about Mr. Wells' skills and education, she introduced him to a friend who worked for Vera Wang.

Mr. Wells had a five-minute interview over Zoom and, on the same day, another 15-minute interview in the designer's offices before he was hired as a sample room assistant.

"I just wanted career coaching," he said, smiling, "but I ended up with a job."

By that time, he had also secured a Section 8 voucher, which provided federal aid to help pay for his rent, so Ms. Kaplan put him in touch with Sapthagiri Iyengar, a housing navigator with Queens Defenders, a legal aid office.

"A housing navigator assists voucher-holders like Brandon, landlords and Realtors with all the bureaucracy and paperwork associated with using the vouchers," Mr. Iyengar said. "We also work proactively to help voucher-holders find more possible apartment matches."

Mr. Iyengar emphasized how essential real estate brokers are to his work. "They play such a vital role here because there is an incentive for them," he said. "They get 15 percent of the annualized rent — a Realtor's fee."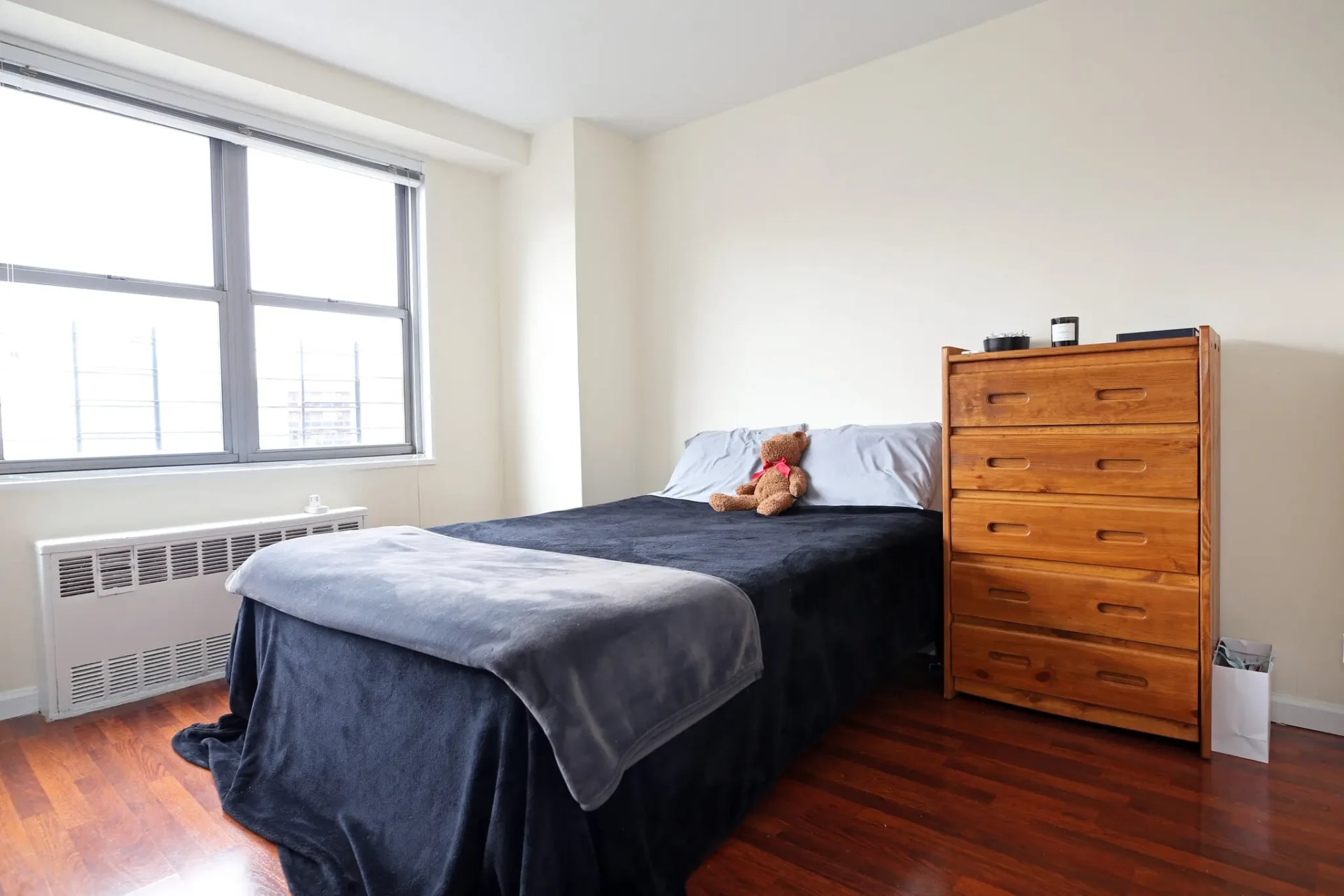 While Mr. Wells enjoys living alone, he's grateful to have supportive co-workers at Vera Wang. "They're a very good support system for me," he said. Credit...Andrea Mohin/The New York Times
Like many of his clients, Mr. Iyengar had experienced homelessness in New York. "That's why I'm so driven to do the work that I do," he said. "And when I looked at Brandon's case, I saw a version of myself."

For his part, Mr. Wells felt like he was Mr. Iyengar's only client. "I knew I wasn't," he said, "but that's how it felt. I think I lucked out with him. He was so attentive. He would check in almost every single day and give me weekly updates."

Within two weeks, Mr. Iyengar found a potential apartment for Mr. Wells — a studio in Forest Hills, Queens.

After seeing the building and the unit, Mr. Wells sent a text to his housing navigator to tell him he loved it. Five minutes later, he received a notification that Mr. Iyengar had submitted his application. "He was so on top of his game," Mr. Wells said.

He moved in at the end of December 2022, almost exactly a year after boarding the train in Los Angeles.

"It's a great location," Mr. Wells said, "near all the subways, and the apartment is on the 20th floor, so I have great views."|

He loves the laundry room and gym, the courtyard with the grass, but most of all he loves not having to go to bed in a shared sleeping hall, with his cellphone clutched in his fist.

"In that environment, you don't know who you're sleeping next to," he said. "The sense of security in this building, feeling safe where I live, is what really sold me on it. It has a level of security I've never had."

Mr. Wells' co-workers at Vera Wang have become his community. "They're a very good support system for me," he said.

One of his best days at work was when he gave his mother a virtual tour of his desk on a video call, shortly after coming clean about all he had been through.

"She said she was so proud of me," he recalled. "She said, 'This is all you've been working for. You did it.' And I realized I really did do it. Sometimes you don't realize what you've done until your mom approves of it," he said, smiling. "That's when it becomes real."